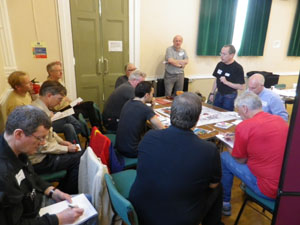 The term 'megagame': was coined around 1980, by Andy Callan, an innovative wargamer and historian and a founding member of Wargame Developments .
It was turned into reality by the famous military historian, founder of Wargame Developments, author, publisher, wargamer and TV personality,the late Paddy Griffith.
He organised the first Megagames, and the first players included many of the people who currently make up Megagame Makers. We all learnt a great deal from those early games with Paddy.
Megagames are challenging, interesting, and fun. Teams of players take on specific roles - for example as a military headquarters, or a national government, and they interact with other teams representing their opponents or allies.
Our megagames are played at a variety of venues, usually in London or around the SE of England, but also in Leeds, and The Netherlands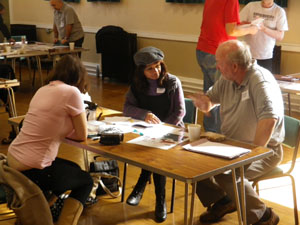 Generally, the games start around 10 in the morning, and we go on to about 5 in the afternoon. At the end there is a short debriefing, and usually a longer debrief in a local pub or restaurant afterwards.
There is a charge to participants, because of the large cost involved in hiring a venue, preparing game materials etc etc. At the moment, a typical game will cost around £30 for a player, or if you volunteer to 'umpire' (or 'referee' or 'control' or whatever you want to call it) the fee is usually less, around £10. For prices click the 'booking' button on the left.
When you contact us expressing interest in a game (and in some cases expressing interest in a specific team, role, level, or type of role), we make a note of that interest and send you a link to confirm your place with either a deposit or full payment, and then a month before the game we send you an email with details of the role we have cast you in.
Usually, we ask for the game fee up front because we have to spend on game materials, hall hire etc before the game.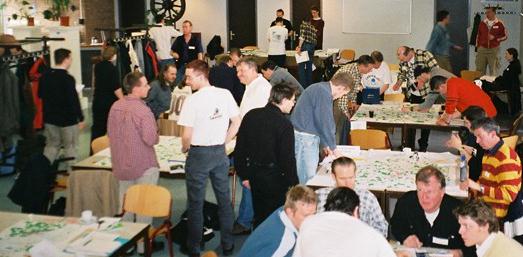 Part of Operation Market Garden 60th Anniversary megagame held in Nijmegen in 2004
About two weeks before the game, we send out the briefing materials, typically a booklet with the basic information you need to play the game, and usually a historical brief for the background to the conflict.
Also a personal and/or team briefing, and details of the other people on your team. You also get other joining instructions detailing exactly when and where to turn up for the game.
To be kept informed of megagames coming up all you need to do is to register your interest on the database - best of all, registration is completely free! Go here to find find out how.