Megagames are large games involving teams of players.
The subject matter can range from politics, economics, history, science fiction and heroic fantasy.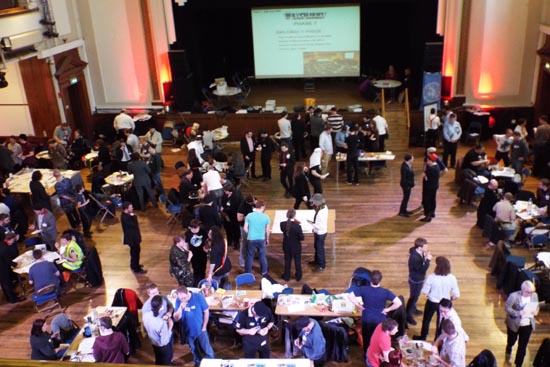 Much of what goes on might be described as roleplaying - though there is also a large element of problem solving, strategy, negotiation - and of course, humour. Megagame Makers is a loose association of game designers who club together to set up and run these events. Browse through the buttons on the left to find out more.
NEWS 14 Mar 2017
Provisional castlist for Foxes and Devils published
NEWS 09 Jan 2017
Provisional roles listed for Foxes and Devils and Barricades and Borders
NEWS 15 Nov 2016
Urban Nightmare : State of Chaos open for bookings
NEWS 30 Sept 2016
Everybody Dies! Provisional Cast List published
NEWS 16 Sept 2016
2017 1st half-year programme FULLY BOOKED. Waiting Lists now open.
THOSE VIDEOS
Those great guys at Shut Up And Sit Down came to our first "Watch The Skies!" megagame and made a video of their experience. here it is!

They then came to Watch the Skies 2 - and made two videos! Part One and Part 2!